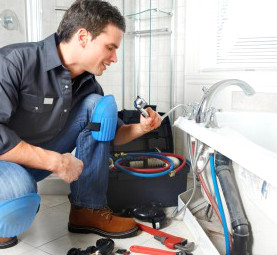 If you search for the best bathroom fitting services in Morden SW19 you can count on our respected and experienced company without any hesitation. Do you need to fit a whole bathroom? It's a lot of work and unless you have plenty of free time, we suggest you leave it in our hands. We're experts at kitchen fitting who've enjoyed their occupation for many years. We are based in Morden SW19 but we also operate within other London districts seven days a week.
We're well equipped with advanced equipment and have relevant knowledge and skills. We have already fitted a great deal of bathrooms around the city, so we're experienced enough to handle more projects. It will be a pleasure to help you install every unit and piece of furniture a bathroom needs to be functional. Call us and get more relevant information.

Get a Free Quote Now!
High-quality Bathroom Fitting Morden SW19
We have spent years working in this business and we know everything about it, we're ready to meet the highest expectations of clients and can deal with any type of bathroom installation for a very short period of time without leaving a mess behind. Your new bathroom will be good-looking, useful and functional. Every item or unit will be in working order.
Our bathroom fitting is nothing but a high-quality service. It includes the following steps:
Room inspection
Measurements
Preparation
Installation of tubs, toilet, basins, shower cabins, sinks
Fitting of bathroom cabinets and mirrors
Final adjustments
We will install any type of bathroom any day of the week. We offer free consultation and extended working hours. Normally, we take charge of bathroom fitting but if you want, we can provide bathroom designs and consult you about placement of various units. Our technicians will take a look at the available space and tell you what to expect.
We'll visit your home at the assigned time to provide the bathroom fitting service you ordered. Our fitters will bring their own tools. They will make some measurements and create a plan.
Normally, we install a bathroom within five days. Our prices are more than affordable and customisable depending on each individual need. For more information about that, please get in touch with our operatives who can answer all your questions straight away. They are available 24 hours a day during the workweek and at weekends too. Based in our office in Morden SW19, they are trained to help customers get what they want. Schedule an appointment to have all the details managed.