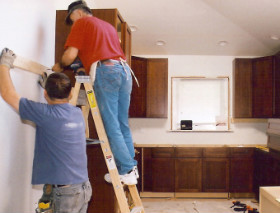 PTMaintenance provides kitchen fitting services in East Finchley, N2. Our experienced kitchen fitters will take care of every detail during the installation of your new kitchen.
If you want to remodel your kitchen and have all the necessary appliances and furniture items fitted in it, our services are the best choice for you. Our professional and qualified kitchen fitters can help you create the kitchen style and design you want and implement it accordingly. Your electrical and water-using cooking, cooling and washing devices will be fitted and installed safely. They will be tested for proper functioning. All hard furniture items will be assembled and placed in the areas, which are more appropriate for them in your kitchen. Use our professional kitchen fitting services, available in East Finchley, N2 every day in the week.
Kitchen Fitting Services in East Finchley
Our first-class kitchen fitting services can offer you:
Creating and implementation of a kitchen design of your choice: traditional, modern or other
Remodelling and improving of your kitchen
Fitting new electrical appliances and removing of old such
Assembling all kinds of kitchen furniture and removing of unnecessary old such
Fitting sinks, taps and repair, installation or changing of the plumbing system, if necessary
Removing old and unwanted sinks, changing taps, if it is needed
Get a Free Quote Now!
If you rely on our professional fitters to install and mount your electrical appliances, sinks, taps, cupboards and kitchen furniture, you will have your kitchen functioning and well arranged. All cupboards, chest of drawers, worktops, chairs and table will be assembled fast and properly. They will be positioned in the most appropriate places to serve your needs. The electrical appliances will be safely fitted and connected to the piping and electrical system by our fitters in East Finchley, N2. You can have a completely new kitchen design created and implemented by our interior designers. They will help you make your kitchen practical and cosy.

Professional Kitchen Fitters in East Finchley N2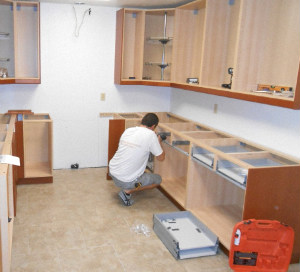 You can have the kitchen you have always wanted, if you rely on our qualified fitter, designers and plumbers to do the necessary planning, mounting and installation work in your home. All tasks are done by professionally trained and experienced fitters. You can have arranged and designed your new kitchen or remodel your existing one. After understanding your ideas and requirements, regarding the kitchen you want, our staff can help you apply them in action.
Your kitchen appliances, furniture, sinks and lighting fixtures will be arranged in such a way that they will make your kitchen easy to be used, without any disturbance. Use our professional kitchen fitting services, provided seven days a week in East Finchley, London, any time you need them.