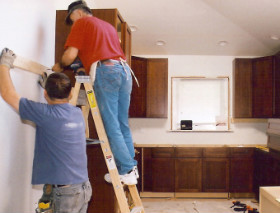 PTMaintenance provides kitchen fitting services in Kensal Green, NW10. Our experienced kitchen fitters will take care of every detail during the installation of your new kitchen.
If you are planing to get yourself a new kitchen, you should consider professional assistance. There are thousands of advantages of expert kitchen fitting services. Most of all the complicated electric and plumbing installations are not a job for amateurs. We are an agency which offers professional kitchen fitting in Kensal Green NW10. Our services provide a full complex of all the kitchen fitting procedures required to create and extraordinary room that combines cooking utilisation and cosy ambience for family gatherings or parties with friends. We offer you home improvement solution that guarantees qualitative results without serious time and money expenses. If you want a cooking palace that will look like taken out from the cover of a home design magazine, our kitchen fitting services are what you are looking for.
Kitchen Fitting Services in Kensal Green
Make a kitchen fitting contacts with us, because we offer you:
Proven professionalism
Time and cost efficient service
Full complex of kitchen fitting procedures
Professional fitters
Guaranteed qualitative results
Get a Free Quote Now!
The large community of satisfied customers is the best proof of our professionalism. Our agency is always motivated to contribute its workforce for the stunning looks of your new kitchen. Inside our team of professional fitters in Kensal Green NW10 we have electricians, who are licensed to install electrical systems and lighting.

Professional Kitchen Fitters in Kensal Green NW10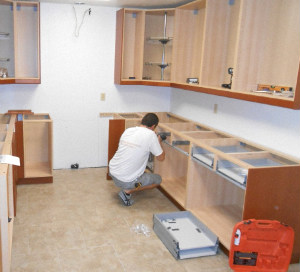 We also have expert plumbers, who will use their skills to grant you with reliable plumbing and drain system. You can check out our kitchen catalogue to find inspiration for you home improvement. If you like to, we can provide you with design ideas and advices to help you with your choice. We have a vast arrangement of ovens, refrigerators, sinks, tables, chairs, etc. Once you have picked the amenities for your kitchen, we will mount them right away. Our services also include layout setting, painting and decorating.
Our team of well trained professional fitters is at your disposal seven days per week. We can start the fitting process once you have an appointment with us. Please, make sure that our teams are available at the time that will suit you most, before arranging the final details.
We are an agency located in London and we execute professional kitchen fitting in Kensal Green NW10. If you want to use our qualitative fitting assistance, all you need to do is to pick up the phone and make a service reservation. Our call agents will be waiting for your call.