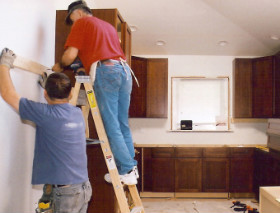 PTMaintenance provides kitchen fitting services in Kingston Upon Thames, KT1. Our experienced kitchen fitters will take care of every detail during the installation of your new kitchen.
Our kitchen fitting service is one of the most affordable in all of Kingston Upon Thames, London and it is annually being used by hundreds of people from all around the capital city. The secret to our success is the hard work and dedication of our experienced kitchen fitters who always strive to provide our customers with a bespoke service.
Kitchen Fitting Services in Kingston Upon Thames
We treat the homes of our clients as if they were our own, and this helps us get the job done quickly and safely, with minimal disruption for you and your family. If you can't wait to step foot in your newly fitted kitchen, then give us a call and we'll quickly arrange an appointment with our certified specialists.
Get a Free Quote Now!
Renovating a kitchen is usually one of the most time-consuming and expensive projects homeowners will have to deal with. The reason for this is that the kitchen is one of the most important parts of your home, and it must be designed, installed & fitted perfectly in order to serve you well for many years to come. If you have already chosen the design and parts that you'll use in your new kitchen, but you are wondering if you'll be able to fit them on your own, then give us a call and we'll gladly take care of this job.
Professional Kitchen Fitters in Kingston Upon Thames KT1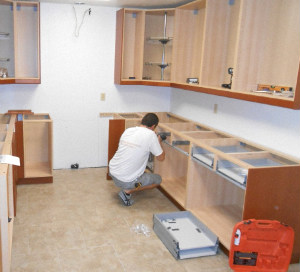 The kitchen fitting services we provide are the most complete in London, and you can rest assured that we'll take care of absolutely everything. The installation & fitting will be taken care of by our kitchen experts, while other certified workers will deal with the electricity, plumbing and plastering. As you can see, we have everything planned out, so there is nothing to worry about – as soon as our workers step foot in your home, they'll start working professionally & responsibly, striving to provide you with the result you expect.
We are ready to assist each one of our customers with free advice & information, so please get in touch with our Kingston Upon Thames support staff if you'd like to learn more about our professional kitchen fitting service. We'll also give you a free quote over the phone.