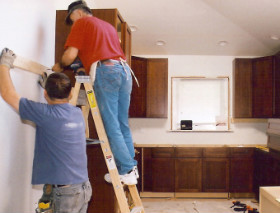 PTMaintenance provides kitchen fitting services in Norbury, SW16. Our experienced kitchen fitters will take care of every detail during the installation of your new kitchen.
Our company provides excellent kitchen fitting services to our many customers throughout the Norbury SW16 area. We are now offering you some of the most affordably – priced fitting services, available in entire Greater London. We have a crew of qualified technicians for any job required for successfully finishing your refurbishment project. We can manage your project from the beginning to the end and deliver all installation procedures required.
Kitchen Fitting Services in Norbury
Here is a list of some of the services offered for your refurbishing project:
Electrical imitations, preformed by qualified electrician
Kitchen plumbing installation and design
Plastering and painting jobs
Countertop installation
Removing and recycling junk materials
Cabinet drawer fittings jobs
Floor, wall and countertop tiling jobs
Entire project management and solutions
Get a Free Quote Now!
Our workers will come to your home to remove all old, unnecessary kitchen drawers, countertops, appliances, even flooring and tiles if needed. Then, they will remove all the junk materials out of your property. After this, we can begin installing the new kitchen fittings.
We will provide you with some of the best qualified and friendly electricians in Norbury SW16. Whether you need a partial or entire kitchen re-wiring, there are some basic circuit requirements in the kitchen to effectively supply the right amount of power to the new appliance you are about to install. Our electricians will make sure everything works fine and there is no risk of domestic fires in future.
Professional Kitchen Fitters in Norbury SW16
Our plumbers will install your shiny new sink and sink disposal clogged, dishwasher and washing machine. They will replace kitchen sink pipes with brand new ones as well as drainage for the dishwasher using the best materials and techniques to maximize the lifespan of the installations.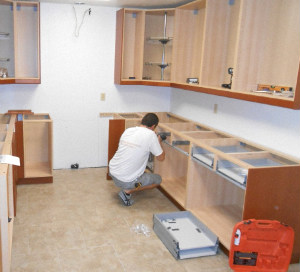 Choosing the right countertop that has to match the colour of the drawers is essential. There are unlimited design ideas out there. We can help you choosing the right one. Countertops are probably the most commonly used part of the kitchen so they have to be pleasing to the eye but also practical and easy to maintain. This requirement also counts for the choice of the floor in your kitchen. Keep it in mind that there will be a lot of spillages and heavy object droppings, including knives, so the floor must be durable.
No matter what the design of your future kitchen is going to look like, our company will be your partner throughout the entire process. We are the best in Norbury area so don't waste time and book today!