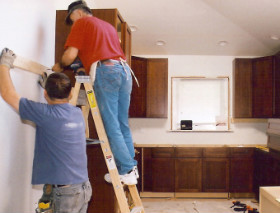 PTMaintenance provides kitchen fitting services in Primrose Hill, NW8. Our experienced kitchen fitters will take care of every detail during the installation of your new kitchen.
Our company is responsible for finishing hundreds of kitchen fitting projects in the Primrose Hill NW8 area over the years. We are professionals who are not willing to stop until every little detail is taken care of. We have all kind of contractor technicians in our crew including: plumbers, electricians, tillers and designers. We offer people who recently bought a new house to create the kitchen of their dreams. We offer the same to anyone who is looking for a change, at a fair price.
Kitchen Fitting Services in Primrose Hill
Here are some of the kitchen fitting supporting services we offer:
Electrical service by qualified electricians
Plumbing service
Plastering and Decorations
Tilling service
Junk removal
Kitchen design project management
Get a Free Quote Now!
When you plan your new kitchen you have to think about a functional design. The kitchen is a place where you cook, which means that it collects a lot of dirt. You should choose the right material for your new countertop. Probably the best solutions are the handcrafted solid wood countertops but they are for sure the most expensive ones. On the other hand, laminate countertops are a less expensive solution; they are easy to maintain but laminate is not heat and scratch resistant. Tile countertops are extremely durable with low – maintenance and come in a variety of styles and colours. Our handy tillers in Primrose Hill can do your countertops as well as the floor and walls.
Professional Kitchen Fitters in Primrose Hill NW8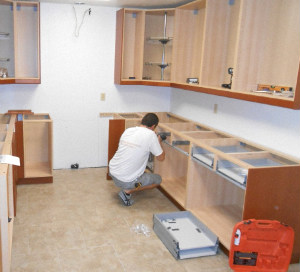 The kitchen floor is also a place, which you want to be easy to clean and maintain. It all depends on the choice of the counter tops and the colours of the drawers you have made so far. However, kitchen floor should be resistant to the spills, stains and damages caused by dropped object like forks and knives. That's why the laminate is not the best choice for the kitchen. Here you are limited to tiles, stone and wood. Although wood and stone could be a little pricy, they are the best choice. Tile floors are, once again, easy to clean and maintain.
No matter what design you will choose, our practical technicians will be there to help. They have years of experience in all types of house refurbishment projects in Primrose Hill NW8. Our company now offers you the most affordable prices. You can get a free quotation here on our website or you can call the operators at any time.