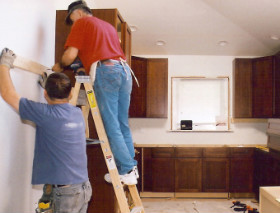 PTMaintenance provides kitchen fitting services in Queensbury, NW9. Our experienced kitchen fitters will take care of every detail during the installation of your new kitchen.
Here in our company, we care about our community. We have specialised in delivering excellent kitchen fitting services for the area of Queensbury NW9. We will support your project from the beginning to the very end. Our crew of highly motivated technicians will be happy to deal with every issue during the process of your kitchen renovation.
Kitchen Fitting Services in Queensbury
Hiring us means that you will save you a lot of time and money because we got all the service you would need:
Kitchen design solutions
Countertop installations
Plastering and painting
Plumbing services
Floor and wall tiling services
Junk removal
Full project management
Get a Free Quote Now!
When it comes to changing your kitchen countertops, the first thing you should consider is the space you will need in order to maintain the counter top clean. The other issue is how to make it more functional when cooking. At the same time you want comfort and style that could make the choice of the countertop a nightmare.
Professional Kitchen Fitters in Queensbury NW9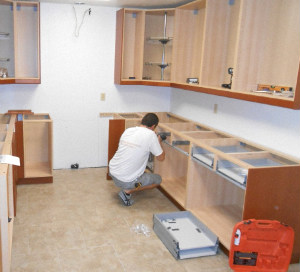 The most economical choice you can make here is choosing either a laminate or a granite countertop as it will add a very fresh look to your new kitchen. However, custom designed solid timber countertops will certainly add more style but because of the fact that they are handcrafted, it will be the more costly. We will help you contact the best countertop dealers in Queensbury NW9 and you can make your choice.
Another important factor for you project is the choice of the appliances. Even though some of your old kitchen appliances may still work, it's always better when everything is brand new. Our qualified electricians will install new wiring for the appliances. They can also do the safety check making sure that every product is operating safely.

Our plumbers will remove old plumbing and install a new one. They will connect all the appliances that needs plumbing like washing machines, dishwashers and sink garbage disposal. Our plumbers use only the most durable fittings and parts on the market and make sure that plumbing installations will have many years of service.
Our tillers can do the tiling of the floor as well as on the wall or even on the countertops. Sometimes tiles are the best choice for your kitchen floor because they are easy to clean and maintain.
We think about the whole process of kitchen fitting so you can be sure that one phone call will be all you need, which make us truly the best choice in Queensbury NW9 area. Call and book today!