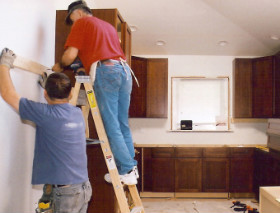 PTMaintenance provides kitchen fitting services in Richmond, TW9. Our experienced kitchen fitters will take care of every detail during the installation of your new kitchen.
The kitchen fitting service we provide takes care of absolutely everything, so you won't have to worry about a thing while we are on the job! Our workers will not just install & fit your new kitchen – they will also take care of all plumbing, electricity and plastering related work, so the final result will be a ready-to-use kitchen that you can enjoy as soon as we are finished with it.
Kitchen Fitting Services in Richmond
Kitchen renovation is a responsible and time-consuming job that should be handled by certified and experienced experts. Instead of paying a small fortune for the entire renovation of your kitchen, you can opt for a more affordable and convenient solution – hiring professional kitchen fitters to install & fit your new appliances and furniture. Our company offers a bespoke kitchen fitting service to all residents of Richmond TW9 and we are confident that we have the necessary skills and experience to fully satisfy your needs.
Get a Free Quote Now!
Professional Kitchen Fitters in Richmond TW9
We know how important our job is, and this is why we always work according the highest standards in order to meet the ever-rising standards of our clients. We employ a team of hard-working and dedicated kitchen fitters who are ready to work every day of the week, and to visit every part of Richmond. They have completed hundreds of kitchen fitting projects, so don't hesitate to take a look at our portfolio if you want to see previous examples of our work.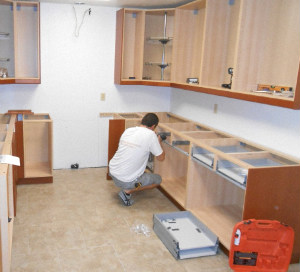 We are familiar with the current prices of kitchen furniture and appliances, and we assure you that it is in our best interest to avoid damaging any part of your kitchen. This is why each one of our workers has the necessary safety training & instructions, so you can have your peace of mind knowing that they will carry out their tasks in a safe and professional manner, protecting their health and your possessions.
The turnaround-time entirely depends on the kitchen fitting project you need, but you can contact our Richmond TW9 support staff for more detailed information regarding our prices, previous experience and recommendations. Feel free to get in touch with us if you have any questions.