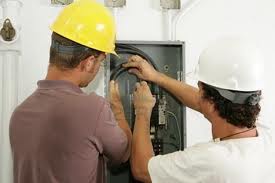 The electricians at PT Maintenance can offer you professional electrical services in Kentish Town, NW5 London. We are specialised in electric installations for both domestic and commercial purposes. Our company has been operating in Kentish Town for over 5 years and our solutions are preferred by many local residents.
Our engineers are registered at the National Inspection Council for Electrical Installation Contractors which means that domestic customers and businesses can have peace of mind when booking a service with PT Maintenance.
Our Prices in Kentish Town
Monday/Friday 7am – 7pm: £70
Monday/Friday 7am – 12am: £100
Saturday 7am – 6 pm: £100
Sunday 7am – 6 pm: £100
All of the work our teams of electric specialists perform in Kentish Town is covered by a three month guarantee. Problems with the electrical systems involve high risk and therefore you should get the issue diagnosed by an experienced electrician. The tools and instruments our workers use are top quality. The services offered by PTMaintenance include fuse board enhancements, mild electrical repairs, cabling installations for the newly built properties, periodic inspections, and PAT inspection. Below you can find a full list:
Installation and Rewiring Solutions Kentish Town
Rewiring offices, Rewiring houses
Installation of new switches and sockets
Hot water heaters
RCD unit installation
Commercial design and installation
Data and communications cabling
Bathroom and kitchen extractor fans
House lighting repair and installation
Garden lighting design and installation
Emergency Electrician Kentish Town/h2>
If the electrical systems fail within a home or office, the people living or working there face an emergency situation. The reason behind is that no electricity renders a property barely habitable. It means that you cannot use hot water, lighting, fridge / freezer, heating, you are not able to prepare food.
About Kentish Town
The district of Kentish Town forms a part of London's north-west and belongs to the Borough of Camden. According to popular belief, the district's name is derived from the word "Ken-ditch" meaning "bed of a waterway". Nearest stations that serve the area include Kentish Town, Gospel Oak, Kentish Town West, Camden Road and Camden Town.
Karl Marx was the most popular resident of the area. It became the home of a number of well-known organ and piano manufacturers during the late 19th and the early 20th century. A number of streets here are named after persons or places associated with Christ Church, namely, Busby, Caversham, Gaisford, Oseney, Frideswide, Hammond and Peckwater.
Kentish Town is within the constituency of Holborn and St. Pancras. "About a Boy", the drama film was shot here. "Venus", the 2006 film starring Peter O'Toole, featured a number of Kentish Town locations.
It is a mixture of independent shops and national retail chains that forms the high street area, including several delis, a bookshop and organic stores. The district has always been famous for its bars and pubs. One such pub is "Bull & Gate" where artistes like Blur, Suede, The Housemartins, Ash, PJ Harvey, The Pogues, Keane, Muse and Coldplay have performed in the past.

West Kentish Town, in the last 5 years, has become a renowned place for its studios, art galleries and creative spaces. Notable among them are the Beardsmore Gallery, the Spring Studios and Leighton Space. Notable residents include the likes of Jim Sturgess, Lucy Porter, Roger Lloyd Pack, Mr Hudson etc.