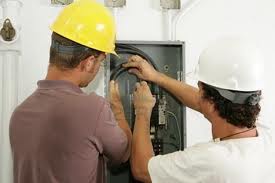 The electricians at PT Maintenance can offer you professional electrical services in Mill Hill, NW7 London. We are specialised in electric installations for both domestic and commercial purposes. Our company has been operating in Mill Hill for over 5 years and our solutions are preferred by many local residents.
Our engineers are registered at the National Inspection Council for Electrical Installation Contractors which means that domestic customers and businesses can have peace of mind when booking a service with PT Maintenance.
Our Prices in Mill Hill
Monday/Friday 7am – 7pm: £70
Monday/Friday 7am – 12am: £100
Saturday 7am – 6 pm: £100
Sunday 7am – 6 pm: £100
All of the work our teams of electric specialists perform in Mill Hill is covered by a three month guarantee. Problems with the electrical systems involve high risk and therefore you should get the issue diagnosed by an experienced electrician. The tools and instruments our workers use are top quality. The services offered by PTMaintenance include fuse board enhancements, mild electrical repairs, cabling installations for the newly built properties, periodic inspections, and PAT inspection. Below you can find a full list:
Installation and Rewiring Solutions Mill Hill
Rewiring offices, Rewiring houses
Installation of new switches and sockets
Hot water heaters
RCD unit installation
Commercial design and installation
Data and communications cabling
Bathroom and kitchen extractor fans
House lighting repair and installation
Garden lighting design and installation
Emergency Electrician Mill Hill
If the electrical systems fail within a home or office, the people living or working there face an emergency situation. The reason behind is that no electricity renders a property barely habitable. It means that you cannot use hot water, lighting, fridge / freezer, heating, you are not able to prepare food.
About Mill Hill
The affluent suburb of Mill Hill is located in the Borough of Barnet and was a part of the historic Middlesex County, until it was taken over by London. The district is made up of a number of distinctive parts, namely the Mill Hill Broadway, the Mill Hill Village, Hale and Mill Hill East. The area is served by the stations Mill Hill Broadway and Mill Hill East .
The district is used to be referred as Myllehill, meaning "hill with a windmill". The oldest inhabited part of this area is the Mill Hill Village. Five shops, namely, Griffins, Cook & Son, Hawes Brothers, The Blenheim Steps and Vincett's, used to thrive in the village until the late 1960's.
All of these have now been turned into private houses, due to the fact that the retail interest in the area moved to the Mill Hill Broadway. It was the working place of Oxford English Dictionary's first edition back in 1879 by lexicographer James Murray. Researchers from the area's National Institute of Medical Research discovered interferon, gas and liquid chromatography and SRY-the gene that determines sex.

A number of notable people are associated with the place directly or indirectly and that includes the likes of Graham Hill, Damon Hill, botanist Peter Collinson, traveler Celia Fiennes, novelist and playwright Michael Frayn, Singapore's founder Sir Stamford Raffles, parliamentarian John Wikes, actress Angharad Rees and abolitionist William Wilberforce. This place hosted the contestants of the reality TV show, "The X Factor" in 2010.