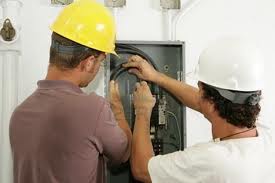 The electricians at PT Maintenance can offer you professional electrical services in Marylebone, W1 London. We are specialised in electric installations for both domestic and commercial purposes. Our company has been operating in Marylebone for over 5 years and our solutions are preferred by many local residents.
Our engineers are registered at the National Inspection Council for Electrical Installation Contractors which means that domestic customers and businesses can have peace of mind when booking a service with PT Maintenance.
Our Prices in Marylebone
Monday/Friday 7am – 7pm: £70
Monday/Friday 7am – 12am: £100
Saturday 7am – 6 pm: £100
Sunday 7am – 6 pm: £100
All of the work our teams of electric specialists perform in Marylebone is covered by a three month guarantee. Problems with the electrical systems involve high risk and therefore you should get the issue diagnosed by an experienced electrician. The tools and instruments our workers use are top quality. The services offered by PTMaintenance include fuse board enhancements, mild electrical repairs, cabling installations for the newly built properties, periodic inspections, and PAT inspection. Below you can find a full list:
Installation and Rewiring Solutions Marylebone
Rewiring offices, Rewiring houses
Installation of new switches and sockets
Hot water heaters
RCD unit installation
Commercial design and installation
Data and communications cabling
Bathroom and kitchen extractor fans
House lighting repair and installation
Garden lighting design and installation
Emergency Electrician Marylebone
If the electrical systems fail within a home or office, the people living or working there face an emergency situation. The reason behind is that no electricity renders a property barely habitable. It means that you cannot use hot water, lighting, fridge / freezer, heating, you are not able to prepare food.
About Marylebone
Marylebone has had its name counted under the most fashionable areas in London ever since the seventeenth century. The place is famous for being home to some of the most famous people and it still continues to be home to some. It is centrally located in London.
Marylebone derives its name from that of the medieval St. Mary's church and the Tyburn River. In fact, the place has been widely known from the fourteenth century when it was the home to Middlesex Gallows that was also called the Tyburn Tree. It was in the 16th century when Henry VIII was attracted to this place and which the king used as the royal Hunting Park. The Park also housed a hunting lodge that Devonshire Mews now occupies.
Marylebone is bordered by the Oxford Street on the south and it is the famous destination for shoppers from all over the world. There are exclusive boutiques and shops where anything can be bought starting from Stradivarius violins to buttons. The restaurants are exquisite and so is the cuisine. The most stylish and modernized bars and ales in Marylebone offer great treat with the brilliant collection of wine.
The place has been home to several men of reputation. The Wimpole Street in Marylebone is where Sir Arthur Conan Doyle had set up his ophthalmic practice in the year 1891. Charles Dickens has also lived in Marylebone with his father who was indebted and on whom was based the character of Wilkin Micawber.