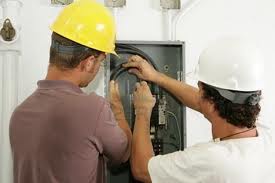 The electricians at PT Maintenance can offer you professional electrical services in Notting Hill, W11 London. We are specialised in electric installations for both domestic and commercial purposes. Our company has been operating in Notting Hill for over 5 years and our solutions are preferred by many local residents.
Our engineers are registered at the National Inspection Council for Electrical Installation Contractors which means that domestic customers and businesses can have peace of mind when booking a service with PT Maintenance.
Our Prices in Notting Hill
Monday/Friday 7am – 7pm: £70
Monday/Friday 7am – 12am: £100
Saturday 7am – 6 pm: £100
Sunday 7am – 6 pm: £100
All of the work our teams of electric specialists perform in Notting Hill is covered by a three month guarantee. Problems with the electrical systems involve high risk and therefore you should get the issue diagnosed by an experienced electrician. The tools and instruments our workers use are top quality. The services offered by PTMaintenance include fuse board enhancements, mild electrical repairs, cabling installations for the newly built properties, periodic inspections, and PAT inspection. Below you can find a full list:
Installation and Rewiring Solutions Notting Hill
Rewiring offices, Rewiring houses
Installation of new switches and sockets
Hot water heaters
RCD unit installation
Commercial design and installation
Data and communications cabling
Bathroom and kitchen extractor fans
House lighting repair and installation
Garden lighting design and installation
Emergency Electrician Notting Hill
If the electrical systems fail within a home or office, the people living or working there face an emergency situation. The reason behind is that no electricity renders a property barely habitable. It means that you cannot use hot water, lighting, fridge / freezer, heating, you are not able to prepare food.
About Notting Hill
The district of Notting Hill lies to the north-west of Kensington Gardens in London. Portobello Road Market and Notting Hill Carnival are the famous attractions of this cosmopolitan district. It is reputed for terraces of Victorian townhouses, shopping, restaurants, etc. Current Chancellor of Exchequer, George Osborne and Current Prime Minister of the UK, David Cameron, once used to live in Notting Hill.
Apart from Portobello Road, Ladbroke Gove, Noting Hill Gate, North Kensington, Westbourne Grove are important areas within the district. Ladbroke Grove station, which lies at the intersection of Ladbroke Grove and Westway, connects the district with cities tube railway.
There are various suppositions regarding the derivation of the word Notting Hill. The word Knottynghull was found in the official documents of 14th century. A manor by the name Notingbarons in court records of King Henry VIII. However, the latest proposition is that Saxon name Cnotta might be the origin of name. It used to be a rural region until 19th century.
The area surrounding the Pottery Lane used to be utilised for production of tiles and bricks. Piggery was also prominent in this same area.
Notting Hill Festival, the major attraction of the district, is organised and led by Caribbean population since 1965. Until present, the carnival is estimated to have attracted 1.5 million people, which has made it recognisable among the biggest street carnivals in Europe. The carnival is estimated to contribute £93000000 to the economy of the UK.