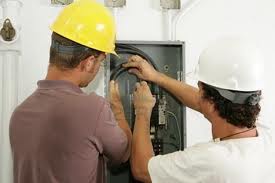 The electricians at PT Maintenance can offer you professional electrical services in Shepherds Bush, W12 London. We are specialised in electric installations for both domestic and commercial purposes. Our company has been operating in Shepherds Bush for over 5 years and our solutions are preferred by many local residents.
Our engineers are registered at the National Inspection Council for Electrical Installation Contractors which means that domestic customers and businesses can have peace of mind when booking a service with PT Maintenance.
Our Prices in Shepherds Bush
Monday/Friday 7am – 7pm: £70
Monday/Friday 7am – 12am: £100
Saturday 7am – 6 pm: £100
Sunday 7am – 6 pm: £100
All of the work our teams of electric specialists perform in Shepherds Bush is covered by a three month guarantee. Problems with the electrical systems involve high risk and therefore you should get the issue diagnosed by an experienced electrician. The tools and instruments our workers use are top quality. The services offered by PTMaintenance include fuse board enhancements, mild electrical repairs, cabling installations for the newly built properties, periodic inspections, and PAT inspection. Below you can find a full list:
Installation and Rewiring Solutions Shepherds Bush
Rewiring offices, Rewiring houses
Installation of new switches and sockets
Hot water heaters
RCD unit installation
Commercial design and installation
Data and communications cabling
Bathroom and kitchen extractor fans
House lighting repair and installation
Garden lighting design and installation
Emergency Electrician Shepherds Bush
If the electrical systems fail within a home or office, the people living or working there face an emergency situation. The reason behind is that no electricity renders a property barely habitable. It means that you cannot use hot water, lighting, fridge / freezer, heating, you are not able to prepare food.
About Shepherds Bush
Shepherds Bush is situated in the West London and is a Borough in Hammersmith. It has huge amount of residential areas while the shopping areas can be found in the northern side. There is the Westfield shopping centre that is known to be the biggest centre in Europe. The main thoroughfares of the place come through Uxbridge, Askew Road, and Goldhawk Road as they contain huge amount of restaurants, shops and pubs. The main focal point of this area is the Shepherds Bush Green that is triangular and approximately 8-acre in size.
The main commercial activity in this area revolves around the Westfield Shopping centre and some small shops that run around the northern part Green. The Shepherds Bush had evolved because this place was mainly the resting place for many shepherds when they were on the way to Smithfield Market. There is another theory that says that the name could have been based on a famous person's name who might have lived there. There are evidences that show that human inhabitation has been there in this area since the Iron Age.
The area has been there in the books since the year 704. It is said that in this year the Bishop of London i.e. Waldhere had bought this area.
Some of the famous areas here include BBC TV Centre's office. There is also the Shepherds Building in Rockley Road and it is 160,000 sq. ft. in size. This is an ancient place that has evolved well with time.