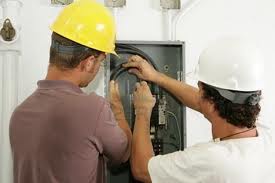 The electricians at PT Maintenance can offer you professional electrical services in Chiswick, W4 London. We are specialised in electric installations for both domestic and commercial purposes. Our company has been operating in Chiswick for over 5 years and our solutions are preferred by many local residents.
Our engineers are registered at the National Inspection Council for Electrical Installation Contractors which means that domestic customers and businesses can have peace of mind when booking a service with PT Maintenance.
Our Prices in Chiswick
Monday/Friday 7am – 7pm: £70
Monday/Friday 7am – 12am: £100
Saturday 7am – 6 pm: £100
Sunday 7am – 6 pm: £100
All of the work our teams of electric specialists perform in Chiswick is covered by a three month guarantee. Problems with the electrical systems involve high risk and therefore you should get the issue diagnosed by an experienced electrician. The tools and instruments our workers use are top quality. The services offered by PTMaintenance include fuse board enhancements, mild electrical repairs, cabling installations for the newly built properties, periodic inspections, and PAT inspection. Below you can find a full list:
Installation and Rewiring Solutions Chiswick
Rewiring offices, Rewiring houses
Installation of new switches and sockets
Hot water heaters
RCD unit installation
Commercial design and installation
Data and communications cabling
Bathroom and kitchen extractor fans
House lighting repair and installation
Garden lighting design and installation
Emergency Electrician Chiswick
If the electrical systems fail within a home or office, the people living or working there face an emergency situation. The reason behind is that no electricity renders a property barely habitable. It means that you cannot use hot water, lighting, fridge / freezer, heating, you are not able to prepare food.
About Chiswick
Chiswick is a large west London suburb that was formerly used by people as a country retreat. The place is well connected to Heathrow Airport and central London which makes it a popular choice for Londoners to spend some nice time away from their busy lives.
Originally known as a fishing village, the place has evolved a lot with the growth of London. There are lots of historic public houses located within Chiswick. Chiswick High Road is known for its unique mix of food outlets, restaurants, hotel space, expanding office and retail. Eating out in Chiswick is no big concern as there are plenty of restaurants, pubs and cafes that offer pavement sitting. Being situated on the edge
of river Thames has led to the growth of recreational and competitive rowing. Rugby is another sport which is quite a favourite among the people of Chiswick.
When it comes to transportation, Chiswick is well connected through roadways to the Heathrow Airport. The M4 motorway connects directly to M25 motorway and Heathrow Airport. River services are also available from Kew Gardens Pier. The travelling gets a lot easier as the place offers 11 bus routes including 3 services running
twenty four hours and 2 all night services.
Even the train services can be availed from Kew Bridge and Chiswick. The place offers lots of different types of serviced accommodations which prove perfect for business travellers. The places offer full comfort and space along with the luxuries that are available in hotels.