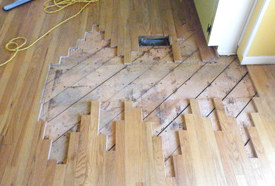 We are offering you our outstanding floor repair services, currently available in London. Our company has a lot of experience in providing such kind of services for its customers in an excellent way. We can repair a great diversity of floors, no matter of their condition. Our dedicated team of workers is equipped with the latest instruments and machines for providing first class quality floor repair.
We can send a team of handymen at any time that would be convenient for you, as we want to ensure the utmost comfort for our customers. Our work is efficient and high quality and you can expect the best final result in a fast way. For our revered customers, we can provide a wide range of procedures for the best repair of your floors. Trust our experienced handymen for a floor repair in all of the rooms in your home. We assure you that we work in a careful and professional manner so that we can provide perfect look of all types of floors.
Floor Repair Services from PTMaintenance
The floor repair within our respected company currently includes:
Removing of scratches from the surfaces
Unpleasant stains that need to be removed
Missing boards
Any additional improvements that are required
Exceptional offers for the customers
Great working schedules
You cannot find more affordable prices for the floor repair service in London. We have prepared many outstanding offers for our customers, the only thing that you need to do is to contact someone from our friendly staff. We will be glad to collaborate with you and to explain every step of the working process. We are equipped with all the right tools that help us to be impeccable in our work. Depending on the type of the floor, we apply different approaches that will guarantee for an excellent floor repair.
Here are some areas we provide floor repair services:
Floor Repair Fulham
Floor Repair Catford
Floor Repair Brixton
Floor Repair Balham
Floor Repair Wimbledon
Whenever you experience problems with your floors, do not hesitate to contact us. Our handymen will be at your disposal 7 days per week, so feel free to contact us at any time. We will take care of every detail because we are experienced and highly motivated. We assure you that we will be punctual in our appointments and that we will discuss any detail of the floor repair with our customers in London. To be fully informed, you can turn to the great customer support centres for receiving additional information about the floor repair.