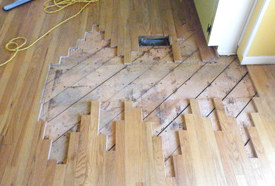 PTMaintenance offers you outstanding floor repair services in Ladywell SE4. Our company has a lot of experience in providing such kind of services for its customers in an excellent way. The first stage of the floor restoration process is floor repair. If your wooden floor have some loose, split or dangerous floorboards, they will be secured with headless nails and replaced with the relevant reclaimed timbers.
All smaller gaps will be filled with resin and dust, while larger gaps will be filled and glued with slivers of reclaimed timber. Our larger and smaller repairs will prepare your floor for sanding and applying protective sealant over it. We can guarantee you professional floor repair, which you won't find anywhere else in London. Our services are provided in Ladywell SE4 seven days in the week.
Get a Free Quote Now!
Our Professional Floor Repair Ladywell SE4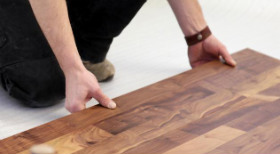 If you have some loose boards on your floor, which need to be strengthened, our technicians will use headless nails to make your floor secure enough. All split and hazardous floorboards will be removed and replaced with the proper reclaimed timber of the same type, size, condition and quality. If your wooden floor is on the ground storey and you want it draught proofed, our technicians will use a mixture of dust and resin to make it even and fill smaller gaps. Larger gaps will be filled with reclaimed wood and glued.
Our professional floor repair includes:
Free estimating of the condition of your floor and the floor repair work, needed in your property
Making loose boards safe and secured enough, using headless nails
All split and dangerous timbers will be replaced with their equivalents of reclaimed wood
Filling smaller gaps for draught proofing and making the floor surface even, by gluing with a substance of dust and resin
Filling larger gaps with pieces of reclaimed wood
Final inspection of the results of our floor repair work
After our technicians replace all damaged boards with the necessary matching timbers, your floor will be ready for the next step of the restoration process – floor sanding. Your floor can be made more even, if it is on the ground floor and you need it draught proofed. Bigger dents between the timbers will the filled and glued with reclaimed wooden material.
Our technicians use the most effective floor repair procedures for every wooden floor, depending on its condition and the final results each customer wants to achieve. They are qualified, dexterous and skilled. Use our floor repair services to have your wooden floor restored to its brilliant state. Our company operates in Ladywell SE4 and is on your disposal seven days in the week.