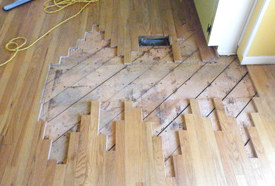 PTMaintenance offers you outstanding floor repair services in Woolwich SE18. Our company has a lot of experience in providing such kind of services for its customers in an excellent way. Often we tend to drop things down on the floor. That may causes minor or heavy damage to our flooring in respect of the weight of the object which have fallen. Weather conditions, natural disasters and unprofessional installations could also cause damage to your floor.
If you have spotted cracks, wholes or any other breaks on your floor, you should react as soon as possible. That way you will any further complications. A single breach in the structure of your floor may lead to various problems. Therefore, waste no more time and look for a floor repair solution. The office of our floor repair company is located in London. We can offer you the most reliable floor repair in Woolwich SE18.

Get a Free Quote Now!
Reliable Floor Repair Woolwich SE18
If you need help to fix a broken bathroom tile, cracked hardwood flooring or scratched laminate parts, we are the company you are looking for. Our services are qualitative and you can rely on them for repair assistance of every kind of flooring. We have motivated professionals who can restore the initial outlook of your property regardless of its material. Cracked or chipped tiles can be easily fixed with our professional skills and equipment. If a plank of your wooden floor is missing, we can replace it with new one in no time.
We understand that clients require only floor repair services on which they can rely, that is why we offer the most trustworthy:
tiles fixing and replacement
plank replacements and sealing
laminate replacements
damage prevention procedures
high-quality gluing, caring and restoration products
As you can see for yourself, our company can help you out to repair every damaged flooring in your house or commercial venue. Along the years of our professional practice, we have met all kinds of complicated situations. With excellent workers, equipment and products, our company has always managed to fix the problems. That is why you can rely on our services. You don't have to worry about your pockets because we offer you professional services at competitive prices.
If you are looking for reliable floor repair in Woolwich SE18, make a service contract with our company. We have the full potential to restore the outlook and the structure of your damaged flooring. Visit us at our office to make an appointment. Making a phone call at our support centre is a more convenient way to register a floor repair service.