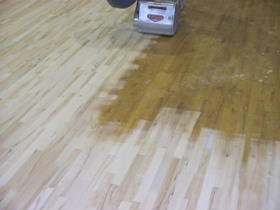 If you want to maintain your floor in a perfect condition, looking shiny and smooth like in the day you installed it, use our floor sanding services. They will remove the scratches, damaged, stains and dirt from it, making it ready to be sealed. Restoration work on your floor is very important for keeping your valuable wooden or parquet floor used longer.
Floor sanding, together with floor sealing and repair of timbers, is part of it. Use our affordable floor sanding services, provided in London seven days in the week. They are done with minimum dust left after our work and will guarantee you successful sealing and repair work for your floors.
You can rely on our technicians to remove the dirt, stains, scratches and the external layer of your floor, so that it will be sealed successfully and protected from damage. Floor sanding is very important part of the floor restoration. If you use our services, the results will be very professional. Our technicians are skilled, qualified and supplied with the most modern and effective floor sanding machines, tools and materials.
Floor Sanding Services from PTMaintenance
Our excellent floor sanding services can guarantee you:
Fully removed dust, stains and dirt from the floor, before being sanded
Using advanced drum sanders and disk sanders for scraping the external layer from the floor
Using high-quality sandpaper
The sanding procedures reach all areas in your floor
Minimal quantity of dust will be left on the floor after our work
Professional floor sanding technicians will be doing the work
Dirt, stains, scratches and cracks will be eliminated from your floor and it will be smooth and shiny
Find Our Floor Sanding Services Here:
Floor Sanding Canary Wharf
Floor Sanding Friern Barnet
Floor Sanding Highbury
Floor Sanding Tottenham
Floor Sanding Kilburn
Floor Sanding Greenwich
Floor sanding is a work better left to the professionals. Our technicians have a lot of experience and skills to provide you successful and fast floor sanding. Your floor can be kept in a wonderful condition for a long time, if you rely on our staff to restore and prepare it for sealing. Our technicians will arrive equipped with dust bags, the best floor sanding machines and qualitative sandpaper. They will clean your floor, scrape its outer layer and remove the dust, left from their work. All scratches, holes and damage on your floor will be removed and it will be smooth and prepared for sealing. Use our excellent floor sanding services, which are available for all residents of London. They are affordable and done very professionally.