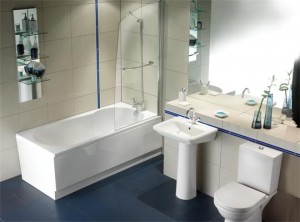 If you are looking for someone to install your new shower or bathroom suite, then you've come to the right place. We are an experienced company which specializes in plumbing services. We've been in the plumbing business for many years and our workers have satisfied the needs of hundreds of private and commercial customers. We guarantee that our plumbing services are the best choice in London and that no other company can match the quality and price of our services.
One of our most popular offers is shower and bathroom installation. We have a dedicated team which carries out this service and we guarantee that they will take all necessary measures to ensure that everything is properly installed and functional.
We have worked with hundreds of private and commercial l clients and we guarantee that each one of them has been completely satisfied with the results we achieved.
We've installed showers and bathroom suites in hundreds of residential properties and so far we haven't received any complaints about the installation. We pay special attention to every part of the installation and double-check each connection to make sure that there are no leaks that can cause problems.
We can install all kinds of showers, taps, bathtubs, toilets, etc. Just give us a call and our support staff will provide you with detailed information about this service. Don't hesitate to ask them if you have any specific questions about our company and the services we offer.
Don't forget that we offer many other plumbing services, so you can take advantage of them as well. Our work hours are very flexible and we can easily fit in the schedule of busy clients – give us a call and we'll find a way to visit you at a time and date convenient for you.