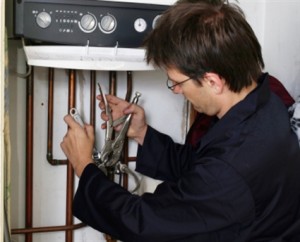 If you are looking for reliable and affordable plumbing services, then you've come to the right place. We are a renowned company which has been in the plumbing business for many years. We offer a full range of plumbing services which can meet the requirements of the pickiest clients, so feel free to give us a call if you are interested in a specific plumbing service.
One of our highly sought offers is the boiler installation and repairs service which is annually booked by many private and commercial customers. We employ a team of professionally-trained and experienced technicians who can work with boilers of all types and sizes. They have installed hundreds of boilers and annually they inspect and repair hundreds of others.
If you think the boiler at your home is broken or malfunctioning, then you shouldn't turn it on. Contact us as soon as possible and we'll send a team of technicians to inspect the problem and present you with detailed information about the problem.
We work with some of the most renowned boiler manufacturers in London, so we have the necessary spare parts and equipment to fix any boiler problem. We also advise you to have your boiler inspected at least once a year in order to preserve its good condition and prevent future problems.
We have installed hundreds of boilers as well and our boiler installation service is available for private and commercial clients from entire London. We can install boilers of all types and sizes and we guarantee that we use the most modern equipment available on the markets.
The boilers which we install are modern, safe and affordable! Don't hesitate to contact our support staff if you have any questions about our company or if you want to learn more about our boiler installation and repair service.