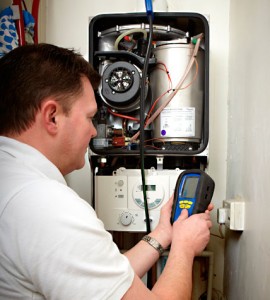 Installing a gas appliance isn't so difficult, but it must be done properly in order to ensure the safety of the people working with the appliance. If you have recently bought a gas appliance, then we advise you to contact our company and take advantage of our gas appliance installation service.
We are a renowned company which is well-known for the quality for all its services. The reason for our success is the team of dedicated and devoted workers which we have gathered. Each one of our employees has been professionally-trained and most of them have been working for our company for years. We can install all kinds of gas appliances:
• Grills
• Gas logs
• Wood fireplaces
• Wood stoves
• Gas stoves
• Mantles
• Natural vent fireplaces
• Gas lights
• Water heaters
We respect each one of our clients and we know how responsible our job, so you can be sure that we've taken all necessary measures to prevent accidents. Our workers are instructed to work safely and do their best to meet the requirements of our customers. Installing a gas appliance is a responsible job and our workers know that, so they'll double-check everything in order to make sure that everything is working and there aren't any leaks or other problems.
The service is quite affordable and our employees are available seven days a week. Their work hours are very flexible as well, so they can easily visit you at a time and date convenient for you. Our company also offers regular gas appliance inspections, so you can take advantage of this service as well, if you want to be absolutely sure that your home is completely safe and that there aren't any problems with your gas installation and gas appliances.