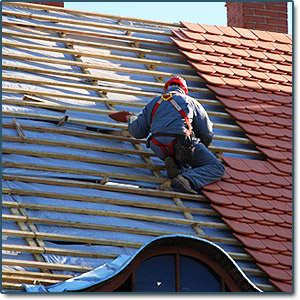 Professional roofing services in Kentish Town, London provided by PT Maintenance. Call our roofers for a quote. Finding roofing services in Kentish Town, NW5 that are reliable, convenient and affordable isn't an easy job, especially if you live in a city like London, where there are hundreds of contractors that claim to offer the best roofing services.
As a homeowner, you probably know that the roof is one of the most important parts of your home and it is very important that you have it inspected and maintained regularly. These inspections may prevent serious problems with the roof – leaks, structural problems, etc. The best way to do this is to hire professional workers like the ones we employ.
Our company offers the most affordable and convenient roofing solutions in London, and we are absolutely sure that there isn't a roofing job which our employees can't handle. We've been in this business for several years, but we are already the favorite choice of hundreds of people when it comes to roofing services.
We are so popular in Kentish Town, because:
•Through the years we worked on hundreds of different projects, so we are familiar with the most recent
roofing technologies, and we know how to apply them in order to get the best results.
•We employ a team of trained, experienced and vetted workers, who work according the highest standards and are highly motivated to achieve the results expected by our clients.
•We are capable of performing all kinds of roofing jobs – installation, planning, designing, replacing, maintaining, inspecting or repairing.
•We provide the required equipment and materials, so you don't need to worry about additional expenses.
A well maintained roof can save you a lot of money and troubles. Imagine your roof leaking in the middle of
winter? This will be a huge problem, but thanks to regular inspections made by us, you can make sure that this won't ever happen to you. We guarantee that our employees will do their best to find even the smallest problems with your roof and take care of them before they cause any troubles. Thanks to our rich experience, we are familiar with just about every type of roof, so we assure you that there isn't a roofing job which we can't take on.
We offer a wide range of roofing services in Kentish Town, for example:
Carrying out urgent or planned roof repairs
Replacing, designing and building roofs
Building and replacing roof lighting
Install fascia boards, gutters and bargeboards
Loft conversion and loft insulation
About Kentish Town
The district of Kentish Town forms a part of London's north-west and belongs to the Borough of Camden. According to popular belief, the district's name is derived from the word "Ken-ditch" meaning "bed of a waterway". Nearest stations that serve the area include Kentish Town, Gospel Oak, Kentish Town West, Camden Road and Camden Town.
Karl Marx was the most popular resident of the area. It became the home of a number of well-known organ and piano manufacturers during the late 19th and the early 20th century. A number of streets here are named after persons or places associated with Christ Church, namely, Busby, Caversham, Gaisford, Oseney, Frideswide, Hammond and Peckwater.
Kentish Town is within the constituency of Holborn and St. Pancras. "About a Boy", the drama film was shot here. "Venus", the 2006 film starring Peter O'Toole, featured a number of Kentish Town locations.
It is a mixture of independent shops and national retail chains that forms the high street area, including several delis, a bookshop and organic stores. The district has always been famous for its bars and pubs. One such pub is "Bull & Gate" where artistes like Blur, Suede, The Housemartins, Ash, PJ Harvey, The Pogues, Keane, Muse and Coldplay have performed in the past.
West Kentish Town, in the last 5 years, has become a renowned place for its studios, art galleries and creative spaces. Notable among them are the Beardsmore Gallery, the Spring Studios and Leighton Space. Notable residents include the likes of Jim Sturgess, Lucy Porter, Roger Lloyd Pack, Mr Hudson etc.